Latest Results
"A true sportsman is determined not by the number of hours he puts in for practice, but by the practice learning that he implies into his performance."
With a tremendous rise in competition, improvement in performance, assessment techniques and perpetually increasing distractions, the Darwinian Theory of 'survival of the fittest' is becoming the core of any sport played. The game of cricket is no exception! No more is it sufficient enough to be a spinner, a fast bowler or an extraordinary batsman. One needs to be an all-rounder cricketer, a healthy team-player, a hardcore athlete and a consistent performer.
Understanding the crux of this sports metamorphosis, Cricket India Academy has walked in-tandem with the contemporary coaching essentials. With advanced training philosophies derived from deep-rooted sport principles, we focus on maximizing participation in high quality training sessions. We ensure that by creating an appropriate learning environment for participants to hone their cricket skills. Our aim is to make phenomenal players – those who would be efficient for a Test match; high-spirited, sustainable and promising as required for a one-day; and highly determined, goal oriented and enthusiastic as essential for a game of Twenty-20. In short, we wish to hone well-versed sportsmen who can survive any dynamics that may come with the game and its evolution.
Latest Results
Sports Education Development India Limited (SEDIL) is committed to providing high quality sports education programs across India. Our company is a joint partnership between education experts Podar Enterprise and Kohinoor Group, and has a combined experience of over 150 years in education.  We have always strived to 'lead the way in the Sports Education space in India' and our experience in this field allows us to provide a quality addition to the Indian education system.
As our first entry into the sports education field, we have secured the exclusive rights to deliver Cricket Australia designed Cricket Education Program (CEP) in India.
MANAGING DIRECTOR
PODAR GROUP
MANAGING DIRECTOR
KOHINOOR GROUP
High Quality Cricket Coaching Program
CEP is the only program written by a recognized governing body of cricket (Cricket Australia) for the development of the game at grassroots.
Program provides structured learning and helps in assessment of growth of the participant via its curriculum
Highly favorable for school based coaching centers as it has a structured and systematic approach.
Encourages participation from all age groups.
Provides various local and national platforms for the showcase of talent.
Be Our Partner
Our belief states that to fulfil our vision of overall Human Capital Development via grassroots, we believe local contribution synergised with modern technique and methodologies will be the pedestal for greater horizons. On that lines, we have developed the following strategic alliance methodologies:
Our philosophy is based on three major pillars, namely, Investing in Grassroots, Promoting Participation and Encouraging the Spirit of the Game. To achieve the goal in this context we are looking for similar minded individuals/entities who would like to work with us in delivering grassroots programs of development in their territories.
Cricket India Academy has been an ever growing family with the same set of values and goals of Sports Education at grassroots and along our way, we have been able to associate with the following entities till date to fulfill the vision of development of life through sports. We exist in the following territories in tandem with our partners for greater good.
PROGRAMS
The systematic age wise cricket development pathway. As Cricket India Academy aims to provide the best quality education and training in cricket, we also take into consideration the varying requirements and needs of our participants.
CAMPS
Excellence in quality of coaching lies at the core of all our programs and services at cricket india academy. Understanding your requirements and getting to the roots of your aspired results, we also design customized cricket camps.
COACHES
Cricket India Academy provides the coveted opportunities to Young Coaches who want to make their career in Cricket Coaching.
VALUE ADDED ACTIVITIES
An effort to provide the global experience of cultures and games that will help not only the player's game skills but also develop their life skills. We conduct various international, domestic & inbound tours throughout the year.
WORKSHOPS
Cricket India Academy provides the immense platforms for our participants to learn from the life experiences of ex international cricket personalities from various countries.
ENROLLMENT ENQUIRY FORM
To enroll in our programs please fill in the details and we will contact you.
"If a picture paints a thousand words, then a let a picture inspire a thousand words."
― Nicholas Boyd Crutchley
Celebrity
All
Tours
Training
Program
Celebrity
Appreciation Presentation
My name is vinod kanade my son took part in the camp conducted at Jamshri cricket academy , after coming here my son learnt the basic and important principles of cricket , I am proud of my son cause first he didn't used to talk but now he was asking questions to Chetan Sharma sir , Sir told him that he his bowling is good , this is the solapur's best sports academy as no other academies have facilities like this academy
Hi I am bharat jain , you invited sir Chetan Sharma at this event , which helped my son to learn a lot of things in a creative way . This never happened that some Ex- International cricketer came and addressed the children on cricket . he gave my son few tips on bowling which made me happy as well as my son
What has your experience today ?
I am quite happy basically attention is given to every aspect of cricket by coaches which is really good but then the kids are still at a primary age and still have time to improve their game ,coaches are good and CIA is doing good in managing everything
What do you think about the program started by cricket india Academy ?
It is excellent and i took my child's admission this year and im happy that i made him join here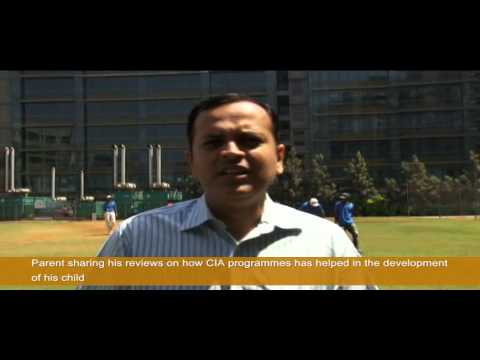 Watch Video ...
Parents Appreciation for CIA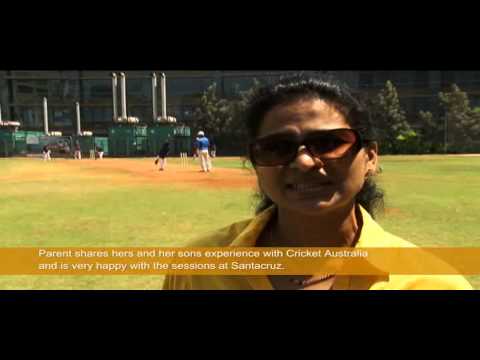 Watch Video ...
Parents Appreciation for CIA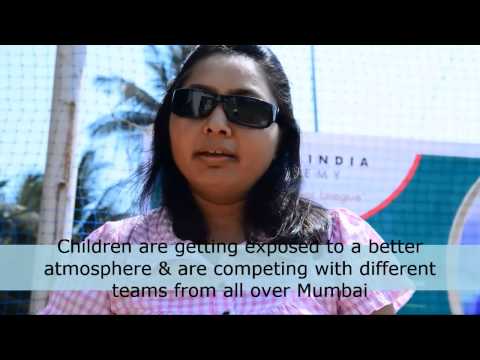 Watch Video ...
Parent of a player from CIA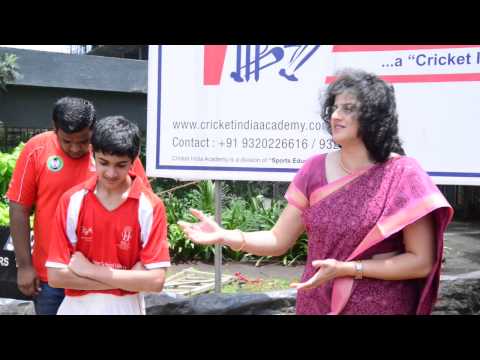 Watch Video ...
Inter School U-13 Monsoon Cup 2013 at Mumbai (KCA)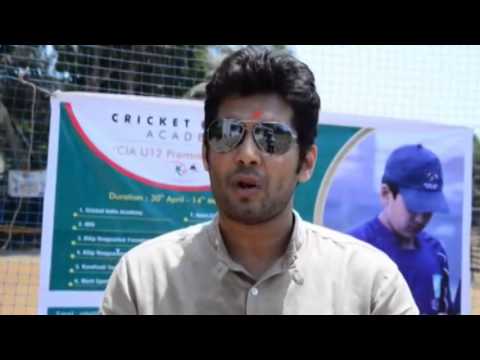 Watch Video ...
TV star Amar Upadhyay appreciates CIA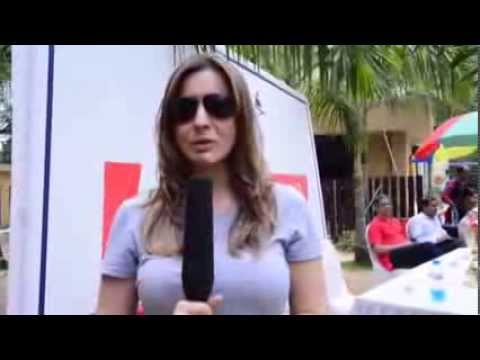 Watch Video ...
Parents appreciation for CIA